10. Fairmont Grand Del Mar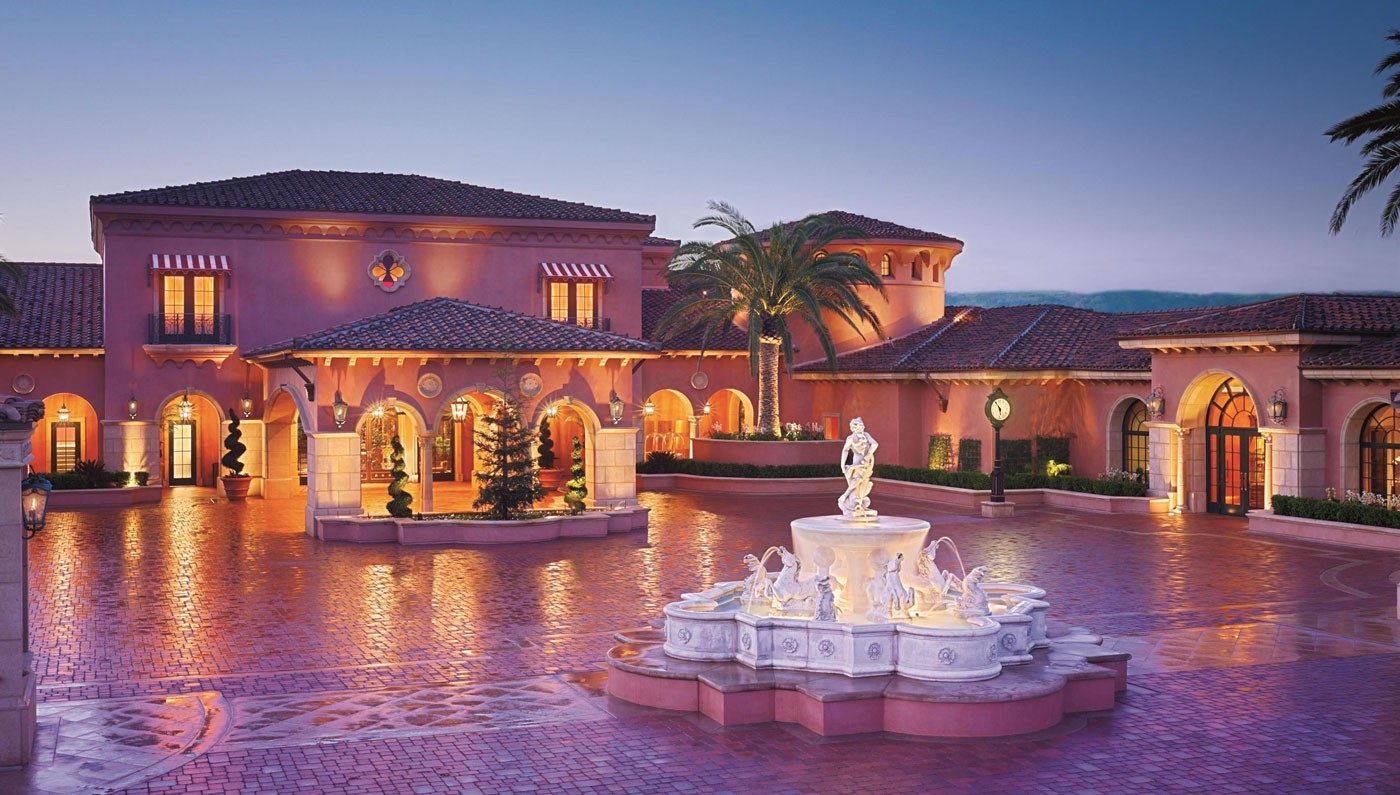 The Fairmont Grand Del Mar is a Mediterranean style resort located at the Los Peñasquitos Canyon Preserve. Spread over 400 acres, it is a complete family destination. It is located near attractions like Balboa Park and Legoland. The resort offers tours of its surroundings as well. You can sign up for a family tour or even for a guided hike. If you don't want fancy hiking, then you can go to the beach instead. The resort's car will take you to the beach. Back at the resort, your kids can enjoy activities like obstacle courses and scavenger hunts while you can head to the spa. The Fairmont Grand Del Mar is pet-friendly, too!
9. Hotel Del Coronado
Hotel Del Coronado is an iconic Californian resort. It is completely meant for beach lovers. Recognized by its bright red towers, its located right beside a stretch of sand and sea. Other than the beach, the resort owns a Jacuzzi and a swimming pool. Your kids can enjoy the Kid's Club. If you have a slightly older kid, then they can spend time at the Coast Club Teen Lounge.
8. Omni La Costa Resort & Spa
The Omni La Costa Resort & Spa is spread over 400 acres and is surrounded by tropical gardens. It is located just ten minutes away from Legoland. The resort offers something for every family member. As soon as you check in, your kids receive a backpack of their own. This continues with activities which includes boot camps and surf camps. There is also a Kids Club which is meant for kids aged between 6 months to 12 years. As a family, you can spend time at any of the resort's eight pools.
7. Hilton San Diego Resort & Spa, Mission Bay
The Hilton San Diego Resort & Spa is spread over 18 acres. The premises include a sandy beach and a park studded with palm trees. It is located near SeaWorld which is a very popular attraction. Other popular attractions like Balboa Park are also located quite close to this resort. As a family you can take part in activities like bocce ball, volleyball, tennis, basketball, sailing and windsurfing. You can also rent aqua cycles and jet skis. Then there is the Mantra Sp' which offers massages like 'Detox Mud Wrap' and the 'Healing Touch.' Other family friendly activities include movie nights near the large outdoor pool. Pets are also welcome at the resort.
6. Homewood Suites by Hilton San Diego-Del Mar
Homewood Suites is perfect for those who are fans of independent stays. You get to stay at a one or two-bedroom suite with a fully equipped kitchen. This is an especially great choice if you are looking for some privacy. A free shuttle is available from the resort to attractions like Legoland and Balboa Park. Other nearby attractions include the Birch Aquarium and the Torrey Pines State Natural Reserve. There are also numerous beaches in the area. One of the best things about Homewood Suites is its complimentary meals. Breakfast and a light dinner are included in the room rate itself. Drinks are available from Monday to Thursday.
5. L'Auberge Del Mar
Located at the Del Mar Village, L'Auberge Del Mar offers a lavish experience to its guests. The staff is very friendly and the overall atmosphere of the resort is very cheerful. The rooms are painted in soothing colors and are equipped with plush beds. The on-site spa – Spa L'Auberge – offers soothing treatments. The resort has two restaurants, Coastline and Kitchen 1450. They serve Californian and upscale American cuisine respectively. Then there is the Living Room Bar, which is located in the lobby of the resort. There is another bar, the Blue Bar, which is located near the pool. The best thing about the resort is that it is very close to the beach!
4. Rancho Bernardo Inn
Even though it is called an inn, it is more of an upscale bed-and-breakfast set amidst natural surroundings. It consists of a spa, four restaurants and a golf course. It might be located half an hour away from San Diego, but you are guaranteed to enjoy the surroundings. All of the rooms offer excellent views of the garden surrounding the property. Some of the rooms are equipped with fireplaces. The inn also includes three pools. There is a separate pool for the spa only. There is also a bar.
3. Loews Coronado Bay
Loews Coronado Bay is located in Coronado Island. Situated right in front of the beach, it offers a lot of fun for the whole family. As a guest of the resort, you get easy access to water sports equipment and bike rentals. You also get access to the Silver Strand State Beach. The resort has a spa, tennis courts and three swimming pools. All of the rooms feature views of the ocean,  the San Diego Skyline, and of the neighboring Coronado Bay. Mistral is the on-site restaurant which takes care of your dining needs. All rooms have their own coffee makers and upscale bathroom fittings, which includes deep bathtubs.
2. Hyatt Regency Mission Bay Spa & Marina
The Hyatt Regency Mission Bay Spa & Marina offers a homely atmosphere in a luxury setting. Located near Mission Beach, it is in close proximity to downtown San Diego. All rooms have high speed internet and flat-screen televisions. Views from the rooms are breathtaking, especially if you are on one of the higher floors. You can also enjoy the view from the Red Marlin Restaurant & Terrace, which is the on-site restaurant. The resort also boasts a fitness center, a spa and three swimming pools.
1. Paradise Point Resort & Spa
Paradise Point Resort & Spa is located on its own island. Located at Mission Bay, it is spread over 44 acres. There is never a dull moment if you choose to stay here. There are five pools, out of which one is for adults only. There is also a golf course, five tennis courts, a basketball court and a surfing school. The resort canmake you feel a bit isolated from the world. As for food, the resort offers 4 restaurants. The highlight of the resort is the Spa, which occupies a space of 7,050 square feet. Treatments offered include 'Thai Heavenly Soak' and 'Hawaii Sticks'.
Originally posted 2017-06-20 06:24:01.