10. St. Petersburg
St. Petersburg is located right across Tampa. Visitors mainly come here to enjoy at the beaches and to escape the cold weather of the north. St. Petersburg enjoys a mild climate throughout the year and is home to many beaches facing the Atlantic. The weather at St. Petersburg is so mild that it has been nicknamed the "Sunshine City." Popular beaches include the Indian Rocks Beach and the Clearwater Beach. Other than the beaches, there is the St. Petersburg Pier to feast your eyes on. For your gastronomical needs, there is the 'Johns Pass' restaurant and plenty of eateries along the dock. Then there is the Mahaffey Theater and the Museum of Fine Arts.
9. Fort Myers and Fort Myers Beach
Fort Myers and Fort Myers Beach are separated by a narrow waterway. They are both located at Gulf Coast and are joined by bridges. Fort Myers is a quiet city filled with modern restaurants and shops. The center of Fort Myers Beach is a different story through. At any time of the year, you can see people walking around in swimwear and indulging in some fudge or ice cream. The beach remains crowded especially during the summer months. It remains covered with sunbathers and umbrellas. If you get tired of the beach, you can head for the Seminole Gulf Railway's Murder Mystery Dinner Train. This tour consists of an enthralling train journey with a five course dinner!
8. Daytona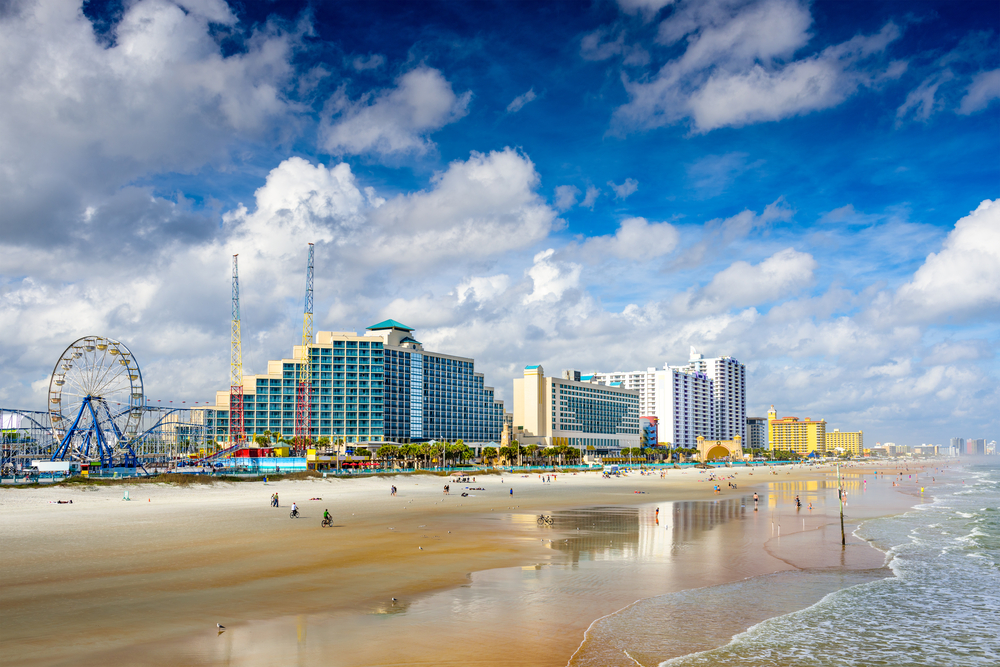 Daytona is mainly famous because of the 'Daytona 500 Nascar Race' which is held every year in February. However, it is also very famous because of its beaches. The most famous among them is the Daytona Beach, which is very popular with tourists during spring break. The beach offers plenty of family-oriented entertainment, which includes the Charles and Linda Williams Children's Museum and the Sunsplash Park. During the evenings, you can catch a live music show at the amphitheater. Unlike most amphitheaters, this one is made up of coquina shells.
7. Naples
Naples is located at Gulf Coast and is quite an upscale town. It has a lovely beach and an elegant city center. A combination of tall buildings and small houses line the beach. Downtown Naples is more down-to-earth and has a feel of a small town. Naples is known for its high-end shops and restaurants. Most of these shops are located at Third Street South and Fifth Avenue South. Downtown Naples consists of several boutiques, art galleries and home décor shops. However, the city is also a destination for families and for nature lovers.
6. Pensacola
Pensacola is a port town located at the largest harbor of Florida. Its history goes back a long way, even more than 400 years. The restored Historic Village of the city preserves buildings made during the British, French and Spanish colonial periods. Other attractions include Fort Pickens, the U.S. Naval Aviation Museum and Pensacola Beach. The latter is known for its vast expanse of sugary white sand. The downtown area offers several restaurants and art galleries.
5. Tampa
Tampa is a city which is filled with many cultural attractions. Located in northern Florida, Tampa is home to the Tampa Bay Rays MLB team, Buccaneers NFL team and the Tampa Bay Lightning NHL team. At first glance, Tampa may seem like a busy business city, but it has a bunch of museums, restaurants and parks. Many of these have opened recently and have made the city more stylish. Tampa's downtown is home to the Riverwalk, located along the Hillsborough River. Along with this, there are theme parks, children's museums, aquarium and a zoo.
4. Key West
Key West is located at the extreme southern tip of USA. Known as the home of author Ernest Hemingway, it has a slow pace of life and the feel of an island. Tourists coming here to actively participate in fishing, diving, shopping, golfing, water sports and sightseeing. As a tourist you can take part in the 'Sunset Celebration' which is held every evening at Mallory Square. The festival features jugglers and tightrope walkers showing off their skills before the sun sets. As night comes, the streets of Key West get filled with open-air bars, pubs and restaurants.
Orlando
Orlando is home to attractions like SeaWorld, Universal Studios and Walt Disney World. Families come to see these attractions in huge numbers, especially during the holidays. However, the city can be visited all year round and not just during the summer months. It enjoys  inviting sunny weather throughout the year. Peak season in Orlando is between the months of May till until Labor Day. You may want to skip visiting Orlando during this time, as it gets very crowded. Beyond the three big attractions, Orlando is also home to some world-class restaurants.
2. Miami
Miami is a very well-known beach destination all over the world. Located towards the south of Florida, it is quite a 'hip city' with its flashy nightlife and upscale entertainment. The modern city of Miami – mostly along Bayfront and Downtown Miami – stands in stark contrast to the laid-back beach. Along with the beach, there is the Art Deco District which has a rich historical part. Miami is always sunny, so it might feel like as if it is always summer there. A visit to Miami should also include a visit to the South Beach which is very popular with swimmers and sunbathers. It is also popular for its various recreational activities and for its nightlife.
1. St. Augustine
St. Augustine enjoys the status of being the oldest city in America. Its history and scenery sets it apart from any other city in the US. St. Augustine can be easily described as a city with an old feel. As you walk down the streets, you can see the buildings which are centuries old. You can also see hidden courtyards and horse carriages. Several old homes boasting colonial architecture line the city center and are popular tourist attractions. Along with the architecture and the history, the city is also home to two beaches. They are the Crescent Beach and the St. Augustine Beach. There is also the Anastasia State Park which is a wildlife sanctuary. There is also the Castillo de San Marcos, which is a Spanish fortress made up of stone.
Originally posted 2017-06-06 08:44:49.