Come summer and the whole city of Chicago goes upwards in search of some sunlight and of course, booze. Here are some of the finest rooftop bars of Chicago which are sure to make your spirit soar with their classic comfort, luxury and of course, cocktails.
Fountainhead – Ravenswood
150-plus whiskies, 26 beers on tap and two hand-pulled casks – Fountainhead is certainly a booze-lover's delight. But Fountainhead is special not only for its booze but also because it is one of the most charming rooftops in the city of Chicago. Enter the den and it instantly gives you a tavern-like vibe, courtesy of its brick fireplace and candle-like lights hung from the ceiling. Enjoy your drink with platters of sausages, pork belly sandwiches and cheese.
ZED451 – River North
What do you expect from a rooftop experience? Fine drinks, good food, amiable crowd and a stunning view of the cityscape. If that's what you are looking for, here is ZED451 for you. With a wide selection of fire-grilled gastronomic fare and house-infused specialty cocktails, Zed451 lets your taste buds experience the freshest choices of the season in a relaxing and cozy ambiance.  Enjoy the airy rooftop terrace projecting the skyline of Chicago cityscape as you stretch your legs sipping on an infused margarita or other frozen cocktails.
Drumbar – Streeterville
One of the most celebrated bars in Chicago, Drumbar has won several accolades that include "Top Ten Bars in Chicago" by Chicago Magazine, "Best Whiskey Bar" by GQ Magazine and "Chicago's Best Rooftop Bars" by Forbes Magazine. Set up on the top of 18th floor above the Raffaello Hotel, the rooftop bar has a cozy indoor lounge area and a wide terrace that opens up to spectacular views of the Lake Michigan. The spirit section boasts some of the most celebrated whiskeys, scotches, cognacs and many limited-release spirits.
Raised – Loop
A formerly unused meeting space converted into a stunning indoor & outdoor rooftop deck. Raised – An Urban Rooftop Bar is a beauty located on the third floor of Renaissance Chicago. Their eclectic style and relaxed luxurious atmosphere make Raised one of the best rooftop bars in town. The beverage section is equally stunning, with over 40 beers by the bottle and more than 35 wines by the bottle, ranging from champagne and Old and New World wines. There is also good selection of house-made cocktails. Advance table reservations are not available, so come early to secure a seat.
Apogee – River North
This is a relatively new entry in the list of Chicago Rooftop bars, but that doesn't keep it from being one of the charmers of Chicago. Stunning, innovative cocktails created by Master Mixologists, served in custom glassware with unusual garnishes like dried starfruit and edible paper butterflies, will liven up your night. With a  luxurious lawn and firepits for colder nights, this newbie is located on the 26th floor up in the iconic Dana Hotel & Spa that overlooks the heart of Chicago.
Up & Up/Cabana Club – Wicker Park
Two rooftop bars in one building – Up & Up and the Cabana Club welcome you to enjoy the night life of Chicago. The Robey Hotel collaborated with its sister property The Hollander and came up with Cabana Club. Just opened in May 2017, Cabana Club is on the 6th floor offering you Latin tidbits and Mexican-inspired drinks. Up & Up, the older of the two, is perched on the 13th floor lounge of the hotel and projects a wide view of the city. You get innovative cocktails that include frozen margarita and a series of classic warm-weather concoctions like caiprinhas and micheladas.
Greenriver – Streeterville
A Michelin-starred restaurant-cum-rooftop bar, Greenriver is perched right atop the 18th floor of Northwestern Memorial Hospital. Armed with one of the largest outdoor terraces of the city, Greenriver offers a wide panoramic view of Lake Michigan and the downtown Chicago skyline. The Irish-American cocktails and an extensive food menu sketch the culinary history of Chicago. The only drawback could be that it is on the top floor of a hospital, but if that doesn't matter to you, then you are in for a new experience in one of the Best New Bars of 2016 as named by Playboy magazine.
Twisted Spoke – West Town
The most popular biker bar also happens to be one of the best rooftops of Chicago. A diverse crowd starting from bikers to regular pub-going people throng this place every day, making it a big melting pot of diverse culture and habits. Twisted Spoke boasts of an outstanding collection of whiskeys and Bloody Marys along with the best nachos and jalapeño poppers in the city. And if these don't make enough reason for you to drop in, well, there's their famous Smut & Eggs, the Saturday porn viewing session. Interesting, eh?
The J. Parker – Lincoln Park
Sip on one of the signature cocktails that The J. Parker has in store for you, and enjoy unobstructed lake views of Chicago. Located on the 13th floor above the Hotel Lincoln, this rooftop bar presents one of the most spectacular view of the Chicago cityscape. There are 140 outside seats and 55 inside. It is one of the best places to throw a cocktail party or any other private event. And by the way, apart from amazing cocktails, they serve an exclusive burger containing dry-aged beef and smoked cheddar.
ROOF on theWit – Loop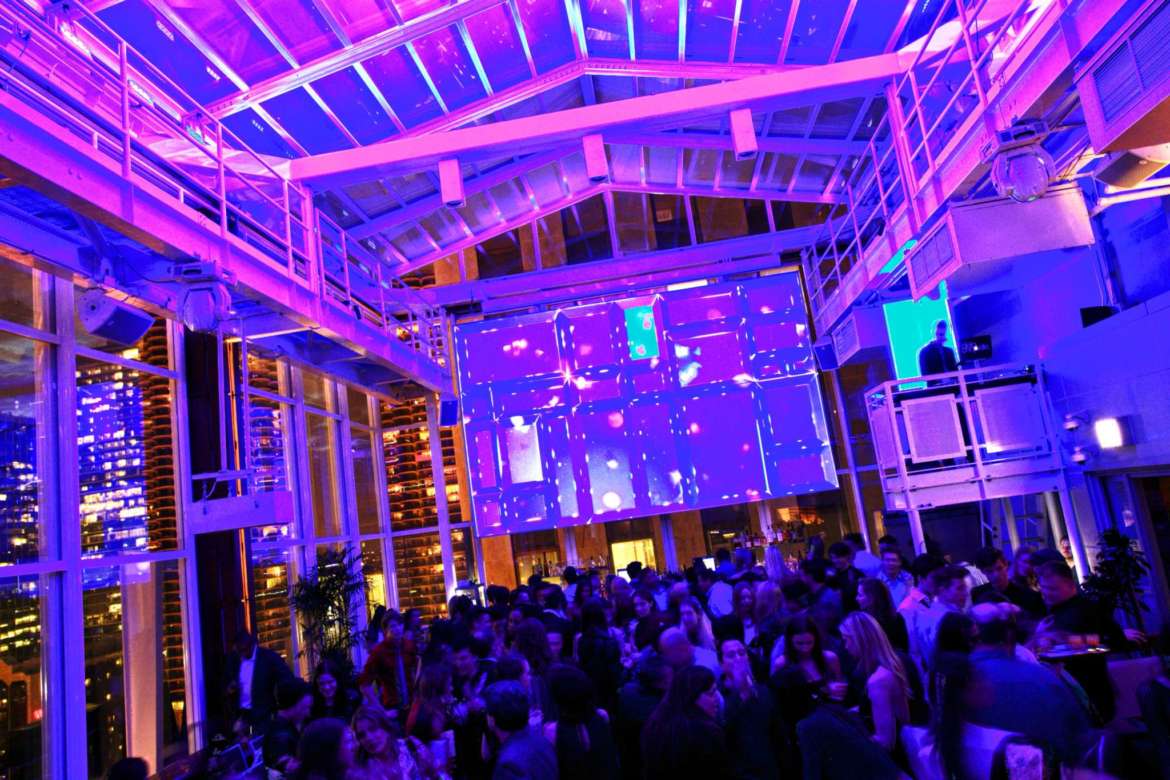 27 stories above the ground with a stunning interior, private event spaces and most importantly, a wide panoramic view of Chicago, ROOF has been rated as one of the top three rooftop bars in the world. It offers you an incredible open-air experience featuring a retractable roof and a climate-controlled space. DJs, acoustic music and live runway shows will make your night out come alive. Add to it delicious servings of grilled beef kebabs, braised paneer cheese and crispy flatbreads. Come, explore the ROOF.
Cindy's – Loop
Undoubtedly Cindy's is one of the most beautiful bars of Chicago and the best bar in the Loop. An open-air terrace opening to a stunning panoramic view overlooking the Millennium Park, Cindy's give a relaxed ambiance and a classic comfort. The extensive food and drink menu has a seasonal sparkle and a touch of innovation both in terms of luxury and culinary delights. Drop in anytime for lunch, dinner, weekend brunch or cocktail parties and live the experience.
Originally posted 2017-08-22 06:14:09.