9. Crystal River Manatees
The manatees of Florida are lovingly known as sea cows. They stay and swim inside the Crystal River, which is just 90 minutes from Orlando. The tours are led by wildlife experts and it includes coming face to face with these huge marine creatures. Each of them is more than 1500 pounds in weight. The tour gives you a chance to snorkel and swim with these amazing gentle giants. The manatees can be seen at any time of the year. Peak season is between the months of November and March. You can also choose to watch the manatees from dry land from the 'Crystal River Wildlife Refuge'.
8. Ellie Schiller Homosassa Springs Wildlife State Park
The Ellie Schiller Homosassa Springs Wildlife State Park is a huge wildlife refuge covering an area of 210 acres. It's a great place to learn about Florida's wildlife, both on land and on water. You can see animals like white-tailed deer, black bears, bobcats and Florida panthers. There are also birds like flamingos and blue herons.  You can view them from an underwater observatory. There are manatees here as well and they are best spotted during winter. Other marine creatures include alligators, crocodiles and river otters. Walking trails are scattered throughout the refuge, making it easy for you to walk around and learn more about Florida's flora and fauna.
7. Southern Osceola County Ranch
Just the term 'ranch' is enough to get you all charged up. There is just something about cowboys and horses which energizes us instantly. Visit the Southern Osceola County ranch for admiring the spirit of America. Get some drinks and watch a live rodeo. Or take a ride on your own! Feast on delicious dinner which includes hot dogs, baked beans, fried, corn on the cob and barbecue chicken. After dinner, enjoy an old-fashioned tractor ride at the Westgate River Ranch. This ride will take you inside the KICCO Wildlife Management Area which is spread over an area of 7000 acres. Here you will get to see wildlife like sand hill cranes, bald eagles, white-tailed deer, hawks and wild hogs. There are also alligators and wild turkeys.
Spirit of the Swamp Airboat Tours
Airboat rides give you a chance to zip through the vast swamp lands of Florida. It is an exciting way to get a taste of nature. 'Spirit of the Swamp Airboat Tours' is located just 25 miles from Orlando. It offers airboat rides through the Florida Everglades. The boats can seat six people at one time. They are small enough to venture into narrow backwaters. Each boat has a captain who provides you with a fascinating back story of all the wildlife in the area. While you are enjoying the experience, you are handed high-tech headsets to listen to the captain's narration. The ride takes about two hours.
5. New Smyrna Beach
The New Smyrna Beach is about an hour's drive from the city of Orlando. It's a popular escape option for people living in the city. The biggest attractions are of course the beaches, which are covered with soft sand. The beaches are lined with numerous apartments and vacation cottages. Some popular activities at the beaches include surfing, swimming and fishing. You can also rent a bicycle and ride it along the beach. If you visit New Smyrna Beach during May to November, you might get to see baby turtles coming ashore at the 'Canaveral National Seashore'. It is located just about half an hour from New Smyrna Beach.
4. Clearwater Beach
Clearwater Beach is frequently voted as one of the best beaches in Florida. Located on the Gulf of Mexico, it is a popular escape for Orlando residents. It takes about two and a half hours to reach Clearwater Beach from Orlando by car. The town is popular because of its sugary soft beaches and attractive resorts. You can enjoy sitting on the soft, warm sand and admire the waves hitting the coast. Or if you want to be a bit more active, then you can hire a speedboat and vroom around on the waters. If you aren't into that much action, then you can opt for doing some quiet fishing at 'Pier 60.' The pier is a popular fishing spot and a great place to watch the sun go down.
3. Daytona Beach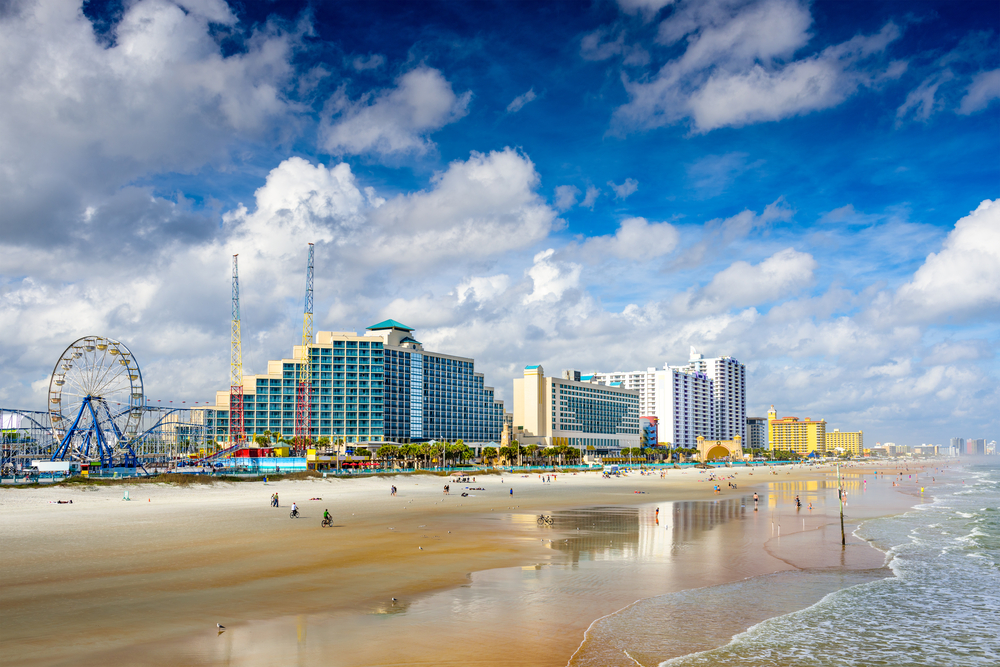 A trip to Daytona Beach is an ideal day trip from Orlando. Daytona is famous as the host of NASCAR races. It is also a lively beach town with a board that declares its beach the 'world's best beach'. The beach is crowded during spring breaks when people come to bask under the sun. Daytona Beaches don't restrict cars and that makes them even more attractive. Plenty of accommodation options are available near the coast in case you would like to stay overnight. A big attraction is the Daytona Beach Boardwalk, which is filled with restaurants, shops, rides and games.
2. Kennedy Space Center 
Kennedy Space Center is one of the most popular day outings from Orlando. You don't need to be a scientist or an astronaut in order to appreciate this NASA facility. It has everything from encounters with astronauts to rocket exhibits. Then there are memorials to NASA's heroes and IMAX 3D films. Some of the most popular exhibits include the Rocket Garden Tour, Space Shuttle Atlantis and the Apollo/Saturn V Center. The center can keep you busy for a whole day, so arrive as early as possible. There is also an exciting 'playdome' for children.
St. Augustine
St. Augustine is known as the oldest European settlement in the US. It is also known as the oldest city in the US. The city was founded way back in the 16th century. If you are a lover of history, you will love this place. Even if you are not fond of history, St. Augustine will win your heart with its ambiance and myriad attractions. Located just two hours from Orlando, the city seems to be in a completely different world. Enjoy walking down the cobbled streets at 'National Historic Landmark District' or gaping at the Spanish colonial buildings. Other attractions include the 'St. Augustine Lighthouse and Maritime Museum' and the 'Lightner Museum.'
Originally posted 2017-06-13 05:43:57.