National and State Parks in Utah
Utah, with its inspiring landscapes of arches, canyons, rivers, lakes, and sand dunes, is a paradise for nature lovers and a playground for adventurers. With five national parks, termed the "Mighty 5" by the state of Utah, and dozens more state parks and national recreation areas, Utah offers an extensive variety of vacation choices for hikers, campers, sightseers, and roadtrippers. Each park has its own unique attractions, sights, and geology. All the parks listed below are well suited for travelers interested in sightseeing and a scenic drive, but some are more well-known than others for specific interests, such as hiking, climbing, boating, or even off-roading. Don't limit yourself to just one park. Plan a route and see as much of the state as your time will allow.
1 Zion National Park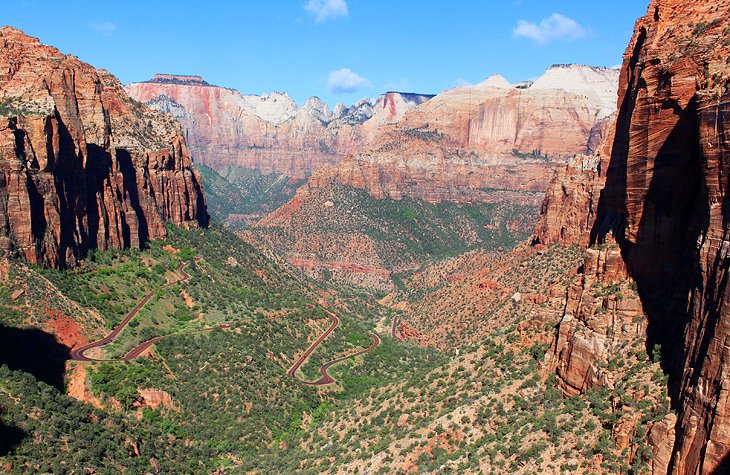 Zion National Park | Photo Copyright: Lana Law
Zion is one of the most visited parks in the United States and one of the most breathtaking landscapes in the Southwest. Massive cliff walls and mountains line the valley and have given rise to the term "vertical park," which is often used to describe Zion. In the spring, waterfalls pour off the ledges, feeding the Virgin River as it flows through the canyon. Two scenic roads offer access to the park, but more terrain can be explored on foot. Zion has an extensive system of hiking trails that take you through the canyons and along the ridges high above. You can immerse yourself in the scenery by hiking below the giant rock walls or up the Virgin River through The Narrows, and fearless hikers can experience the grand views from lookouts more than 1,000 feet above the canyon floor.
From spring until fall, a free shuttle service transports visitors along the Zion Canyon Scenic Drive. Visitors can hop on and off at any and all of the stops along the way. During the winter months, this road is open to private vehicles. The Zion-Mount Carmel Highway is open year-round to private vehicles. RVs must pay a fee to use this stretch of highway in order to pass through a narrow tunnel.
2 Arches National Park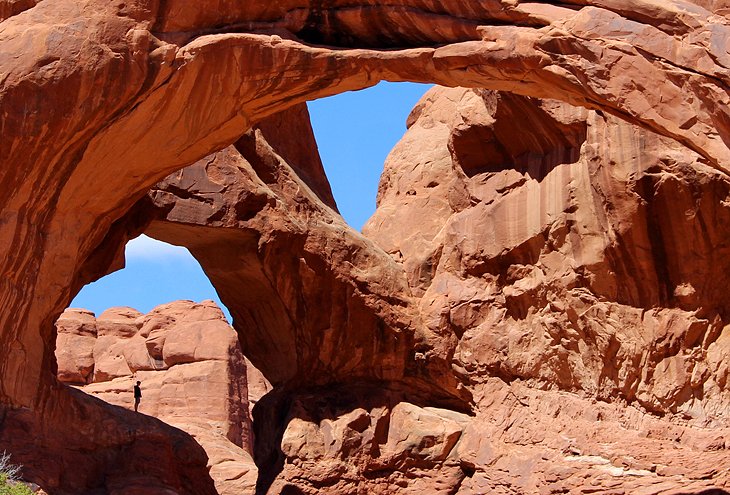 Arches National Park | Photo Copyright: Lana Law
With more than 2,000 sandstone arches, Arches National Park has the highest concentration of natural arches in the world. The freestanding horseshoe-shaped Delicate Arch is the posterchild for the park, perched majestically on a cliff wall in front of a sandstone bowl. The arches are spectacular, coming in a full range of shapes and sizes, each seemingly with its own character. The park, set high above the surrounding desert and the nearby town of Moab, is also home to giant stone fins, spires, slickrock, sand dunes, and beautiful views that stretch to the distant La Sal Mountains. Short walks and hiking trails lead to spectacular sites, most of which are easy enough to be enjoyable for small children.
3 Canyonlands National Park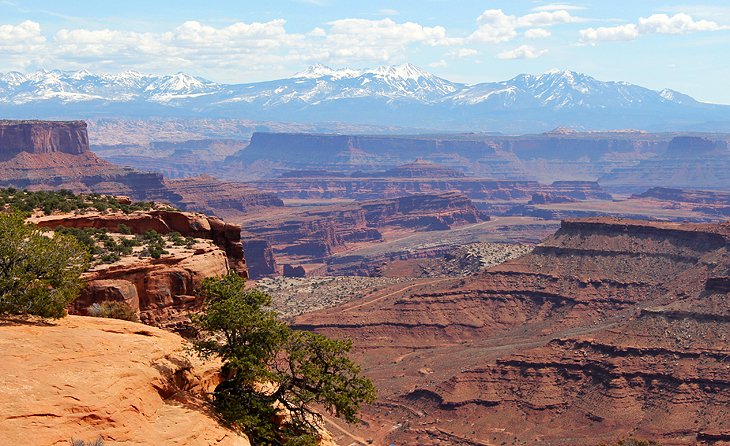 Canyonlands National Park | Photo Copyright: Lana Law
Canyonlands is Utah's Grand Canyon. The view from the Island in the Sky district of the park, looking out over the carved landscape of plateaus and canyons, is one of the most awe-inspiring sites in the entire state. The short hike to Mesa Arch is another must-see attraction, as this dramatic arch, perched on the edge of a 500-foot drop, frames the distant landscape. And these are just two of the sites in one section of the park. Canyonlands has three separate areas, the most popular of which are Island in the Sky and The Needles, both within an hour of the town of Moab, not far from Arches National Park. Needles is a nice area for longer hikes and four-wheel driving; Island in the Sky is more for sightseeing and grand views. The third area, the remote Maze district, is less visited and more difficult to access.
4 Bryce Canyon National Park

Bryce Canyon National Park | Photo Copyright: Lana Law
A fantasy world of towering stone spires and balanced rock formations known as hoodoos, in shades of orange, gold, cream, and pink, greet visitors who make the journey up to Bryce Canyon National Park. From the lookouts along the canyon rim, you can peer out over the bowl of hoodoos into an almost surreal landscape. The most striking views are from Sunset and Sunrise Points, along the Rim Trail. To get a different perspective, take a walk along one of the hiking trails that carve through the canyon and meander around the base of these giant spires and oddly-shaped stone formations. The park, set at an elevation of between 8,000 and 9,000 feet, is also home to a number of ancient bristlecone pines, a less common site in this part of Utah.
5 Dead Horse Point State Park
Dead Horse Point State Park | Photo Copyright: Lana Law
If you visit only one state park while you're in Utah, it should be Dead Horse Point. One of the most spectacular viewpoints in Utah is from Dead Horse Point Lookout, with views over a gooseneck in the Colorado River, 2,000 feet below. Looking down and to the left, you can see what is called "Thelma & Louise Point." The final scene from this movie, portrayed as a car driving over the edge of the Grand Canyon, was actually shot here. You can also see the Potash Road as it follows the cliff of the plateau below. Several hikes lead to dramatic lookouts on both sides of the point. If you are up for a longer hike, the seven miles of trail are connected and can be done as one long hike.
6 Capitol Reef National Park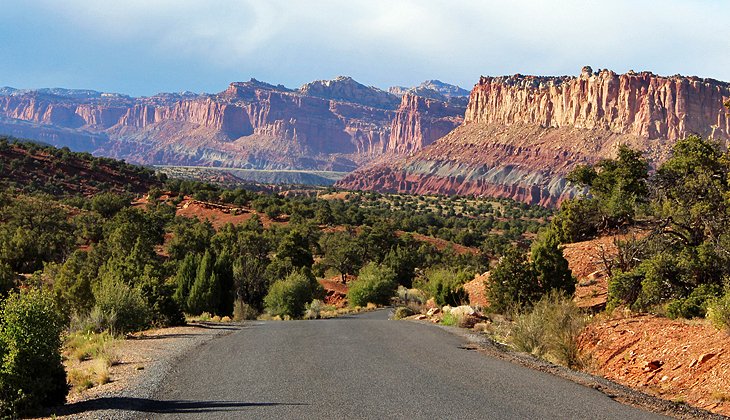 Capitol Reef National Park | Photo Copyright: Lana Law
One of Utah's "Mighty 5" parks, Capitol Reef National Park is another area of impressive rock formations. Approaching from the south, particularly in the late day when the sun is low in the sky, Capitol Reef looks like a giant wall of orange, pink, and purple hues on the horizon. Less visited than the other major parks, Capitol Reef offers a different experience, with less people, more solitude, and a feeling of tranquility. The park also has one of the nicest national park campgrounds in Utah, backed by orange cliffs and hedged in by an orchard. The scenic drive through the park offers a close-up look at the most dramatic section, but you'll also find interesting stops as you approach the park's visitor center coming from the town of Torrey, including Goosenecks Overlook and Panorama Point. This park does not require as much time to see as places like Arches, Canyonlands, or Zion National Park, but it's definitely worth a stop.
7 Escalante Grand-Staircase National Monument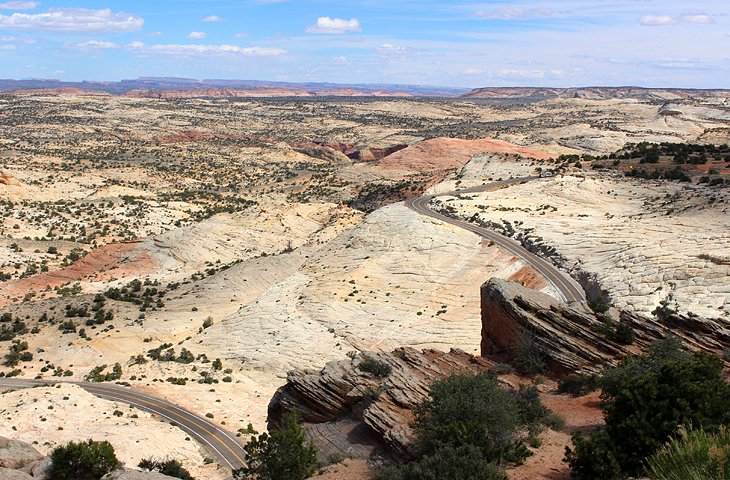 Escalante Grand-Staircase National Monument | Photo Copyright: Lana Law
The largest US National Monument by landmass, Escalante Grand-Staircase is a rugged, diverse, and largely remote area of southern Utah. Seemingly endless waves of slickrock dominate large sections of the park, including stretches that can be seen from the viewpoints along scenic Highway 12, cutting across the north end of the monument. Highway 89, along the southern edge between Kanab and Page, offers even more dramatic views of colorful banded hills and canyons. You can stop off at the Paria ghost town and nearby recreated Old West town, both of which have been used as filming locations in movies. This area is surrounded by some outstanding scenery of mountains and washes. For those who head into the interior, a land of colorful canyons, cockscomb ridges, arches, and even waterfalls can be reached by dirt roads and hiking trails.
8 Cedar Breaks National Monument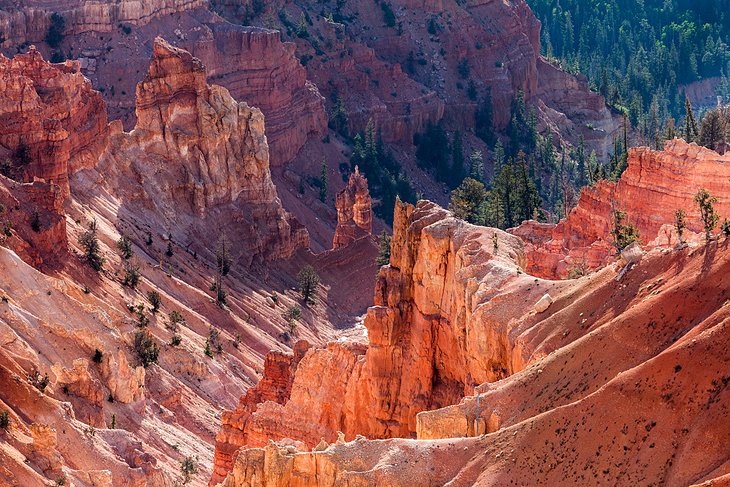 Cedar Breaks National Monument
Cedar Breaks National Monument is similar in many ways to Bryce Canyon, with a deep amphitheater of towering hoodoos and surrounding walls of multihued stripes that glow in shades of orange, pink, gold, and cream. At an elevation of 10,000 feet, the park is closed in winter, when the access road is covered in snow. However, in the summer, the cool climate is a refreshing treat from the heat of lower regions and a good place for hiking, with a variety of trails for all levels of ability. Also, with many deciduous trees, the park becomes a colorful spectacle in the fall, when the leaves turn a bright yellow and orange. The park is open from late May to mid-October.
9 Snow Canyon State Park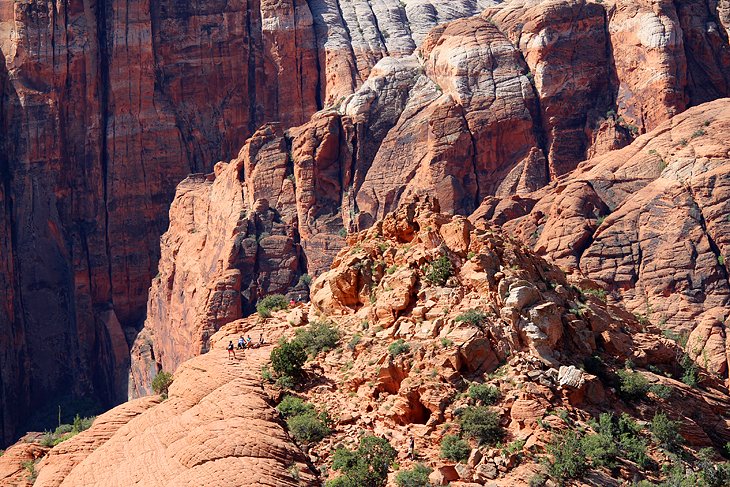 Snow Canyon State Park | Photo Copyright: Lana Law
This pocket of magnificent scenery in southwestern Utah is overshadowed by the bigger name national parks in the vicinity but packs a big punch for its size. It also offers sights you can't see or easily access in places like Zion National Park, including black lava fields and lava tubes you can scramble into. You can walk along waves of petrified dunes, enter a slot canyon just a 10-minute walk from the road, and find some outstanding lookout points. This park is one of the most popular hiking areas near St. George and yet offers solitude you won't easily find in many of Utah's national parks.
10 Coral Pink Sand Dunes State Park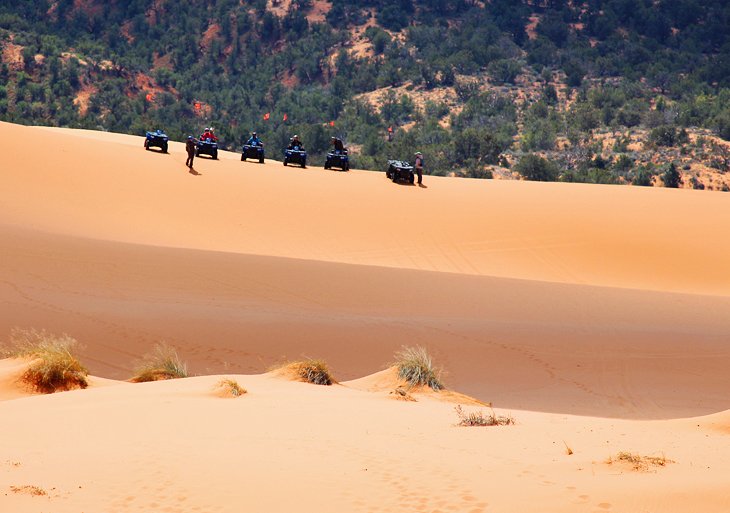 Coral Pink Sand Dunes State Park | Photo Copyright: Lana Law
Small but unique, Coral Pink Sand Dunes is a fun place to spend a day playing on the dunes. Sculpted by the wind pattern created by the Moquith and Moccasin Mountains, the dunes here range in size, with the largest reaching about 100 feet in height. Like the orange cliffs that dominate nearby national parks in Utah, the sand here is Navajo sandstone.
You can try your luck sandboarding down the dunes, but most people opt to run down them. A nature trail on the edge of the dunes features plaques with information on the sites. This park is an extremely popular place for people who come here with ATVs. However, there is plenty of space, and they aren't likely to bother people on foot. Operating ATVs is not permitted during quiet hours in the morning and evening, so they do not disturb campers looking for tranquility.
11 Monument Valley Navajo Tribal Park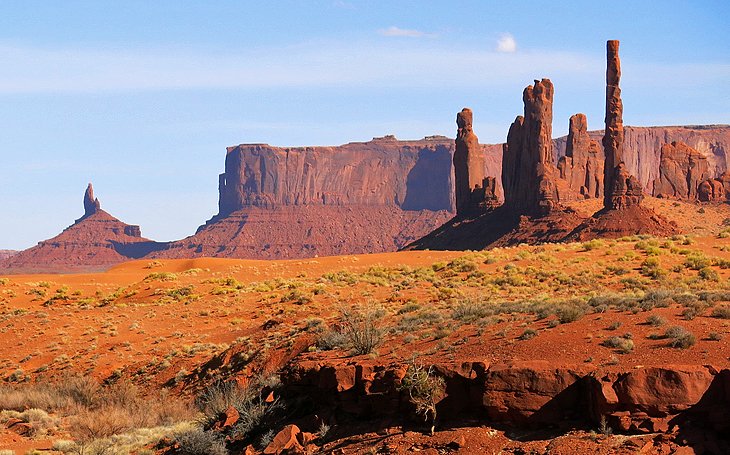 Monument Valley Navajo Tribal Park | Photo Copyright: Lana Law
Monument Valley, the setting for countless movies, is not a state or national park, but a Navajo Tribal Park on the Navajo Indian Reservation. Huge buttes and pinnacles rise up from the valley floor like stone castles of the desert. The red and orange sandstone against the piercing blue sky creates stunning images. Photographers can create true masterpieces here. A 17-mile dirt road weaves through the stone structures, with pullouts all along the route. From the visitor center is a sweeping view over the valley to some of the most famous sites. If you want to see more of the landscape, you can take a guided tour to sites you can't reach from the road, including large sections of red sand dunes.
12 Sand Hollow State Park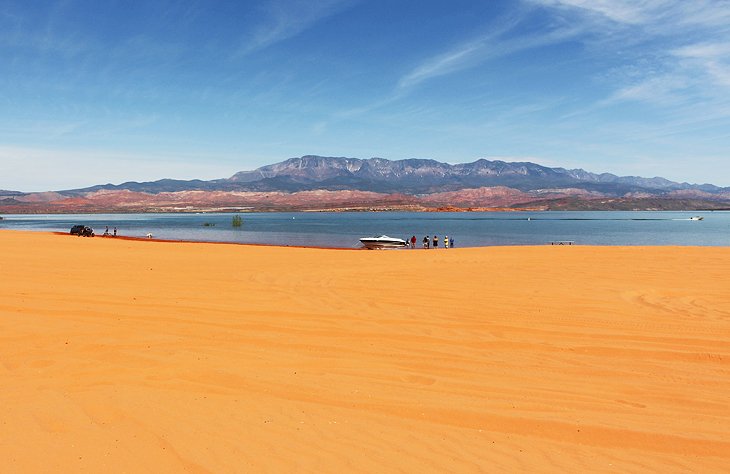 Sand Hollow State Park | Photo Copyright: Lana Law
Sand Hollow is lesser known by out of state residents but a hot spot with locals, who come here to hang out on the beach, boat, fish, kayak, or take their OHVs (off highway vehicles) into the surrounding sand dunes. A beautiful, coral-colored soft-sand beach stretches all along the west and south side of the lake, forming a wide band between the lake and road. In some areas, you can drive your vehicle right down to the water's edge and set up on the shoreline, but the sand is deep, and you don't want to drive off the road without a four-wheel-drive vehicle. On the opposite side of the lake, mountains add to the scenery. The park has two campgrounds, as well as primitive campsites along the beach in the dunes.
13 Goosenecks State Park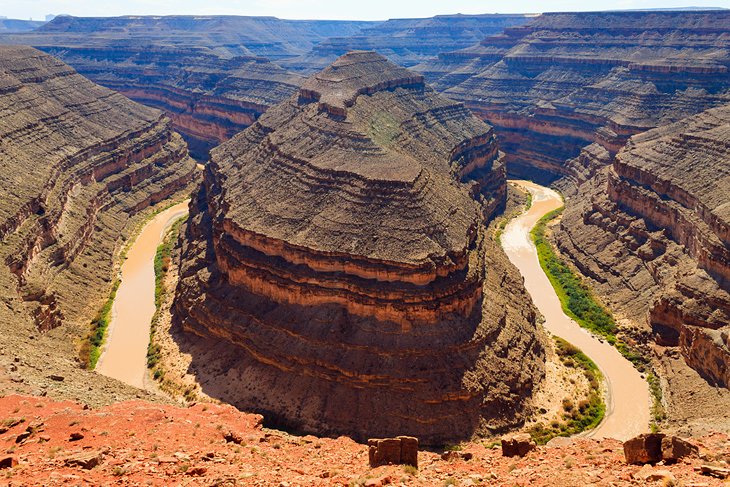 Goosenecks State Park
This small park is worth a stop for the outstanding view of a meander in the San Juan River, 1,000 feet below the lookout. Beyond, dramatic scenery stretches into the distance, where the river has carved its way through the landscape. To get a complete view, or to photograph a gooseneck showing the water flowing all the way around the bend, you need to inch your way out to the very edge of the unguarded viewpoint ledge. Beware of high winds before you consider approaching the ledge.
Goosenecks State Park is in a remote part of southern Utah but is a convenient stop if you are visiting Monument Valley. The park also has eight first-come, first-served primitive campsites, with vault toilets and no water.
14 Natural Bridges National Monument<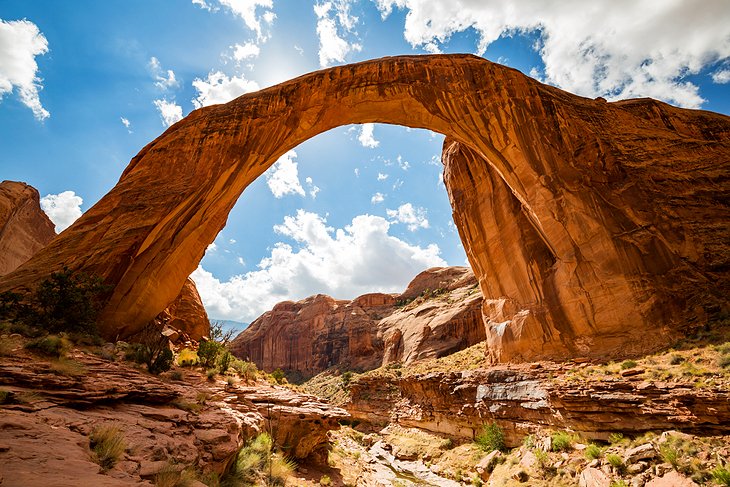 Natural Bridges National Monument
Three large natural bridges are the highlight of Natural Bridges National Monument, located in southeastern Utah. If you are not planning a stop at Arches National Park, then this park is definitely worthwhile. Hiking trails that offer access to these high bridges range in length from 0.4 to 1.4 miles in length. Unlike arches, which are formed by many types of erosion, natural bridges are formed primarily by erosion from water. These three are quite spectacular, but the park has a number of other interesting features, including Horse Collar Ruins. These well-preserved Puebloan cliff dwellings, dating back more than 700 years, can be seen from a short overlook trail.
credit: http://www.planetware.com/utah/top-rated-national-and-state-parks-in-utah-us-ut-100.htm